"I'm confused, what do these numbers mean?" 🤯
Students studying music theory are often confused by the many ways numbers are used. Scale degrees, Roman numerals, Figured Bass, and what's the Nashville Number System? I can't blame you for feeling frustrated. It's pretty tough to remember it all, especially in the first year of music theory.
To help, this wildly popular study sheet is now a FREE download! "What Numbers Mean in Music Theory" is a 4-pg study sheet on the myriad of ways that numbers are used in sheet music and music theory (plus other goodies!).
Subscribe to Music Theory Shop and this handy PDF packet will be delivered straight to your inbox!
learn more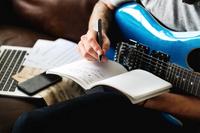 Take a Chord Quiz
What is the V7 of A major? Take the chord quiz to see where you place and if you may be a good candidate for the new, upcoming course: Write Better Chord Charts. Click below and scroll down to "Free Preview Chord Quiz."
Learn more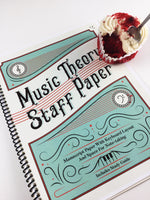 The product that began music theory shop: music theory staff paper
Welcome to Music Theory Shop
I help ambitious, multi-faceted, diverse musicians of all genres, go from being overwhelmed and frustrated in music theory and musicianship, to honing their music skills with proficiency and confidence to begin teaching, creating, and performing, so that they can create a soul-fulfilling music career and lucrative music-teaching business that is built for longevity. ~Dr. Malia