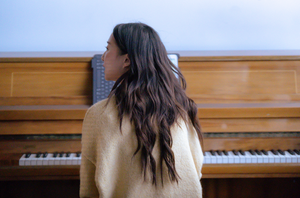 Beginning Music Theory Class
Regular price $28.00 Sale
Music Theory, Musicianship, Music Meltdowns😱
Take a music theory class with Dr. Malia. Beginning music theory classes focus on music fundamentals: terminology, Circle of 5ths, scales, modes, triads, basic chord symbols, triads in a key (called "functional harmony"), seventh chords, beginning level form and analysis.
Refresh your skills, reinforce skills in tandem with your music lessons and ensembles, surround yourself with other musicians also improving their skillset.
Online Zoom, various topics (see calendar). 60 min class includes, lecture, worksheet exercises, Q&A. Add a note in cart 🛒.with any questions, comments, or current music meltdowns.

Bring staff paper, pencil.
I help ambitious, multi-faceted, diverse musicians of all genres, go from being overwhelmed and frustrated in music theory and musicianship, to honing their music skills with proficiency and confidence to begin teaching, creating, and performing, so that they can create a soul-fulfilling music career and lucrative music-teaching business that is built for longevity.